10 x 10 ebook
We are delighted to share the ten insights that have most shaped our work over the past decade.
It's an honor to have worked with leaders on the journey to greatness over the last 10 years. It's work we get to do every day, and for this, we're grateful.

Our work with leaders is a partnership. For every piece of advice, encouragement or council we offer as coaches, our clients inspire us with their brilliance, commitment, and willingness to try new things.

Download the free ebook now!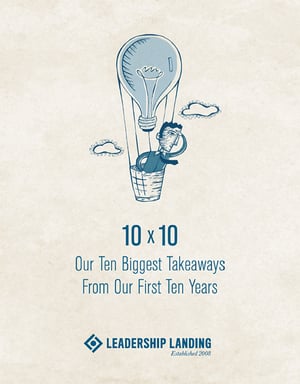 Our new ebook shares the ten client insights that have inspired us and shaped our work most through the last decade:
Moving from Judgement to Inquiry
Don't Just Do Something, Sit There!
When B+ is better than A
Follow Up and Follow Through
Love and Fear
Applying Productive Pressure
Owning the Time in Between
No Trust-Neutral Interactions
Strong Opinions Lightly Held
Be Self Aware, Be Curious, Be of Service


Download our free ebook here