Today's workplace is complicated—regardless of the industry. And although businesses may look different from the outside, when you examine each at their core you'll come to realize that each company is similar; where there is high demand for a product or service, the daily challenges can be all too real.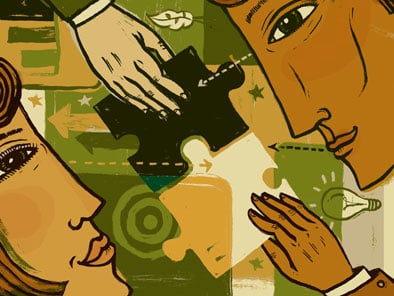 Over the last seven years, Leadership Landing has employed our proprietary 360 Assessment Platform to pinpoint strengths and identify the areas that need further development for more than 1,000 high performing leaders across a wide variety of industries. Our 360 Assessment includes a customized benchmark analysis of the leader's results based on the Five Attributes of Great Leaders: Self-Awareness, Bravery, Kindness, Innovation, and Inspiration. Along the way, we've also procured some fascinating insights of our own about how leaders rank across the Five Attributes.
One recent finding is about leaders in the healthcare industry, who have the most positive results of all industries when measuring the Five Attributes, especially when it comes to Inspiration and Kindness. To learn more about these results, we spoke to Maurie DeWitt, a human resource executive and proven leader with experience inside and outside of Healthcare, for her thoughts on why the Five Attributes resonate so well with leaders in the healthcare industry. This is an excerpt of our conversation.
Maurie, our data shows that healthcare leaders have the most positive results when measuring the Five Attributes of Great Leaders. As a leader with experience within and outside of healthcare, why do you think that is?

My first assumption is that it's the nature of healthcare itself. Healthcare is rooted in the role of the caregiver; it's a caring industry, it's a caring profession. In addition, the very nature of the work is highly complex, in a highly complex environment. The combination of the nature and complexity of the work matter. People who work in healthcare immerse themselves deeply, creating a duality to the care and the business of the industry.
When you say the complexity of healthcare, how does the complexity of the industry contribute to the way in which leaders are showing up as it relates to the Five Attributes?

Treating patients forces you to look at the world in a different way, one that you can't imagine if you're not self-aware—aware of your way of being— and how that impacts every patient interaction.
If you're providing care, how can you be anything but brave? Every day you're taking a measured risk based on data for the betterment of your patient. Everything you do for a patient is brave.
Then there's kindness; there's a ton of literature to support how being kind can help a patient's healing process by alleviating fear and concern. And here you are dealing with people at their most vulnerable, where every interaction offers the opportunity to build your kindness muscle, your foundation.
Healthcare is a highly innovative industry—there is a strength and a challenge to that because you've got to keep all levels of staff educated, but there are also time and cost constraints, as all these new treatments are expensive. As patients become informed, their expectations are even higher, and they believe that innovation should be at the core of healthcare, and that thy should be the beneficiaries of the innovation. Everything is new and different all the time.
Probably the easiest attribute score to explain is inspiration–in healthcare, the vision and mission tend to be more readily identifiable than in a lot of other industries. There is no aha moment: we're all rallying around the 'caregiver' mission, all the time.
In your view, what does kindness have to do with an organization's likelihood to be successful?

Organizations are made up of people. Kindness manifests itself by believing in the value and the dignity of those people, and that leaves no room for judgment. There's not an organization on earth that wouldn't be better off by embracing what each person brings to the table—by focusing on inclusion—and the richness that comes from that. That's my view on kindness.
This blog post is part of a content series on leadership. Stay tuned for additional insights from Leadership Landing's proprietary research.