Have you given any thought to how you can be a better leader through mindfulness? This is a topic I've been passionate about for years, way before its mainstream acceptance. As mindfulness continues to grow in popularity and becomes the latest health and wellness craze to infiltrate the workplace, it's as if we've (and that includes Leadership Landing) finally been given permission to talk about this stuff openly.

Here's the thing, everyone's talking about it because it just makes sense, which is why mindfulness training is becoming more commonplace for businesses. Industry leaders like Google, Apple, Yahoo, AstraZeneca, IBM, and others now offer corporate mindfulness programs to their employees. In fact, 22% of companies have mindfulness training programs already in place, and another 21% plan to add a mindfulness training component to development programs in 2017.

Yes, but what does that have to do with my being a great leader? Well, actually, a lot. Many of mindfulness's underlying principles can be applied to leadership development, and they resonate deeply with the Leadership Landings 5 Attributes of Great Leaders (more on that later).

Great leaders think before they act. They plan and strategize, and they build a foundation before implementing and executing on an idea. They lead with intention, and by example. Intention defines purposeful decision-making for themselves and their organizations. When great leaders make sound decisions that align with their vision and values they not only earn the respect of employees but create a workplace where employees are empowered to take risks and engage in creative activities that benefit the entire organization. And that's what we all want, right? To build an environment that results in a great workplace.

Mindfulness: Strength training for your brain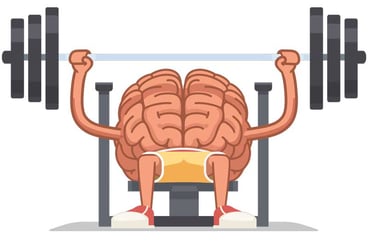 Mindfulness is the art of being present in the moment. Practicing mindfulness is strength training for your brain, an exercise that is becoming increasingly critical as we lean into a 24/7, always-on and connected lifestyle. Studies show scientifically proven benefits to mindfulness, including increased cognition, focus, and concentration; a reduction of anxiety and stress; and probably the most important one for great leaders, a quieting of the mind's distractions.

Practicing mindfulness increases self-awareness and encourages connections with others. As a leader, it gives you space to see things differently so you can maximize your mental capacity, and in turn, nurture the genius and potential in those around you. It helps you to become a better person, and a great leader, one that inspires employees and energizes organizations. On a personal level, mindfulness can help you be more patient with yourself, practice compassion, and be more open to new experiences.

The Five Attributes of Great Leaders

At Leadership Landing we believe that great leaders possess five key attributes: Self-awareness, Bravery, Kindness, Innovation, and Inspiration. I've already hinted at how mindfulness contributes to self-awareness, and for those of you who have read the whitepaper here's a brief review of how it all fits together.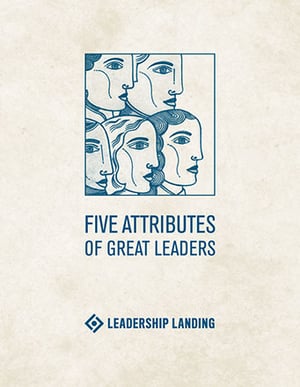 Self-awareness is the cornerstone of great leadership. A leader who exhibits self-awareness displays a clear sense of identity, a sense of purpose, and a distinct, consistent way of interacting with others. They can easily perceive how their presence affects and influences the people and the environment around them. Brave leaders create an environment where people feel comfortable and empowered. Leaders who harness the courage of their convictions are willing to take measured risks for the betterment of an organization and encourage their workforce to do the same. Without self-awareness, bravery can often be seen as reckless and endangering to a leaders' environment. Self-awareness brings clarity so that bravery can be actualized appropriately in each situation.

Leading with kindness starts with empathy, the ability to relate to the feelings and emotions of others, and as in bravery, is best exercised when needed. Self-aware leaders who establish a foundation of good will and compassion toward the people around them will often see an increase in productivity, performance, and overall job satisfaction simply by putting others first. Kindness and compassion are essential traits for leaders to navigate the complex social interactions in the workplace.

Inspiration and innovation round out the five attributes. When leaders inspire others to work toward a shared vision with purpose, employees are given permission to innovate their approach to solving organizational challenges. Everyone wants to feel like their work has an impact on the business, and leaders who are self-aware readily recognize those desires. Great leaders take the time to understand how that larger sense of purpose can align with an employee's daily work and push them to be more daring and creative in their efforts.

Practicing mindfulness, once you get the hang of it, is an effortless and direct way—a silver bullet if you will—to become present in every moment. It allows us the ability to see situations as they are, and not through the lens of old patterns or inaccurate expectations based on our previous experiences.

Companies across all industries are realizing the benefits of mindfulness and meditation. They are fast discovering that leaders who practice mindfulness often overreact less, bring more attention to detail, and have a more balanced, deliberate approach to interactions and decisions.

Leadership Landing has been on the forefront of incorporating mindfulness into its leadership coaching practice. Our sole purpose is to help leaders become more self-aware, more mindful, more deliberate, better able to connect intentions with decisions, and better-equipped to enable the people around them to excel in the workplace.

Sound interesting? Give Leadership Landing a call today. We can help.